The Lymphatic System: A Comprehensive Look at our Vital Vascular Network
The human body is an intricate network of interconnected systems, each playing its own unique role. Among these systems, the lymphatic system, with its extensive and complex network of lymphatic vessels, holds a pivotal role in maintaining our body's fluid balance and immunity. This article will delve into the structure, function, and significance of this critical vascular network.
Lymphatic vessels, akin to the tributaries of a river, emerge as blind-ended channels termed lymphatic capillaries. These capillaries are dispersed throughout the body, penetrating various tissues and organs. Their structure is unique in being "porous," allowing them to effectively collect interstitial fluid, the fluid lost from vascular capillary beds during nutrient exchange processes.
Interstitial fluid isn't just water; it carries a diverse mix of materials. These include pathogens, immune cells, hormones, and cell debris, all of which are absorbed by lymphatic capillaries. Thus, these vessels serve as conduits, returning this fluid and its constituents back to the blood circulation through a connection with large veins in the neck region.
One of the most critical functions of the lymphatic system is in the digestion process, particularly in the absorption of dietary fats. Within the small intestine, absorbed fats are transformed by the intestinal epithelium into protein-coated lipid droplets known as chylomicrons. These chylomicrons, along with other components of the interstitial fluid, drain into the lymphatic capillaries. Here, these capillaries, termed lacteals, serve as the primary route for the transport of absorbed fat from the gut to the venous system.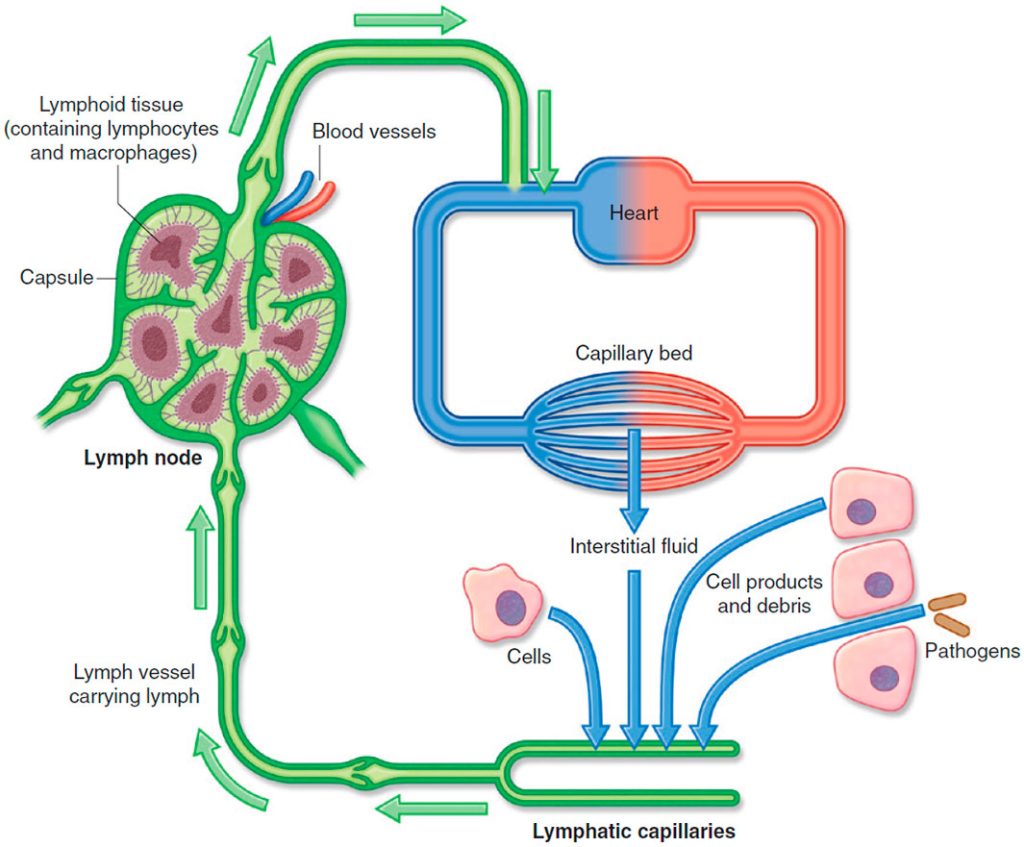 The fluid inside the lymphatic vessels, referred to as lymph, is typically clear and colorless. However, lymph that originates from the small intestine carries chylomicrons, giving it a milky appearance and earning it the name chyle.
Lymphatic vessels are omnipresent, reaching most corners of the body, even those associated with the central nervous system. However, there are a few exceptions. Areas like bone marrow and avascular tissues, such as epithelia and cartilage, are devoid of lymphatic vessels.
The propulsion of lymph through these vessels primarily depends on the indirect action of surrounding structures. Contraction of skeletal muscles and pulses in arteries significantly contribute to lymph movement. Moreover, the lymphatic vessels are equipped with valves that maintain a unidirectional flow of lymph, ensuring efficient transport and preventing backflow.
In conclusion, the lymphatic system, with its intricate network of vessels, plays a crucial role in fluid balance, fat absorption, and immune responses. Despite being less talked about than the circulatory system, understanding the lymphatic system is integral to grasping the body's complex processes of nutrient transportation, waste removal, and defense against disease.
Please follow and like us: